Car Rental Rwanda: 4×4 Self Drive Rwanda Deals from $65+/Day
Car Rental Rwanda: 4×4 Self Drive Rwanda Deals from $65+/Day – Car rental in Rwanda is a popular way to explore the country's stunning landscapes and wildlife reserves. If you're planning a trip to Rwanda, renting a 4×4 vehicle can be an excellent choice.
A 4×4 vehicle is ideal for navigating the country's rough terrain, including dirt roads and mountainous areas. With a 4×4, you'll have the freedom to explore the country at your own pace and on your own schedule. Rwanda is home to several national parks, including Volcanoes National Park, Nyungwe Forest National Park, and Akagera National Park, all of which offer amazing wildlife viewing opportunities.
With a 4×4 rental, you can easily access these parks and explore their many hiking trails and scenic viewpoints. Additionally, a 4×4 rental in Rwanda will give you the flexibility to visit remote villages and experience the local culture firsthand. Whether you're planning a short trip or an extended adventure, a 4×4 rental in Rwanda is an excellent choice for exploring this beautiful country.
Self Drive Rwanda 4×4
Self Drive Rwanda 4×4, your ultimate partner for an unforgettable adventure in Rwanda. Car Rental Drives offer a range of reliable, well-maintained 4×4 vehicles that are perfect for exploring the country's stunning landscapes, from the rolling hills and tea plantations to the magnificent national parks and wildlife reserves.
Our self-drive car rental service allows you to experience Rwanda at your own pace, with the flexibility to create your own itinerary and explore the hidden gems of the country. With our affordable rates, comprehensive insurance, and reliable customer service, you can rest assured that your trip will be safe, comfortable, and hassle-free. Whether you're a solo traveler or a group, Self Drive Rwanda 4×4 is the perfect choice for your next adventure. Let's hit the road and create unforgettable memories together!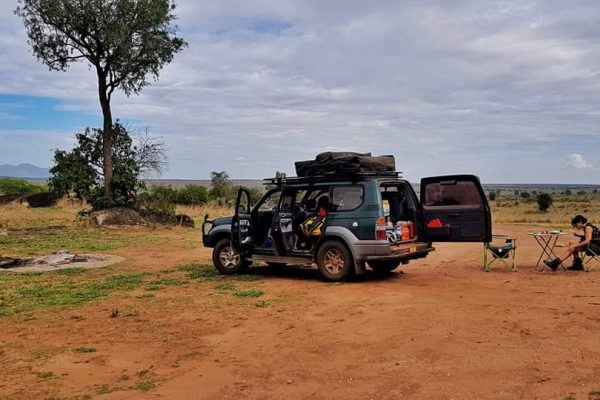 Car Rental Rwanda with Driver/Chauffeur
Car hire Rwanda with a driver guide: Car rental drives offers the best 4×4 car hire Rwanda option to rent a car with a driver guide or chauffeur. We dedicate our  car hire with driver guide or chauffeur option to travelers  who  enjoy the service of a professional driver guide services
We have well mannered driver guides, who fluently speak English, Germany, French, Polish, and Spanish, which undeniably make leisure & business safari holidays/vacations around Rwanda much easier to all our customers. Besides, our driver-guides also have at least 10 years of experience in offering first class services to all clients with a guarantee that they arrive safely, and on time to their destination.

Touched by a wild baby gorilla in Rwanda: SO CUTE!
Long Term Car Rental in Rwanda
Long Term Car Rental Rwanda 4×4 (Monthly, Yearly + self-drive) – Need a car for a 28 days, a month up to 3 years? Car rental drives offers long term car rental in Kenya of any class of a car to its customers who need a means of transport from 28 days, 1 month, 2 months up to 3 years.
Long term car rental in Rwanda makes sense in situations as family vacations, internships, business occasions, moving to another place, relocating to another city/country for work or study, group safaris, government and non government organizations projects, humanitarian projects.
Car Rental Drives offers you the possibility of having a long-term rental Rwanda 4×4 for your Vacation/Safari with guaranteed maintenance during your holiday, and it comprehensive insurance for your car rental.
Car Rental Rwanda with Camping Gear/Equipment
Car Rental Rwanda with camping gear: Car rental drives offers an equipped 4×4 Car with quality camping gear/equipment to travelers who are driven by passion for the outdoor camping.
We provide whatever gear you need for your camping safari;  whether it be with a Land cruiser, Rav4s, Nissan Xtrails among others.
We have major Car Rental Rwanda with camping gear like; GPS, camping chairs, camping table, Rooftop tents, gas stoves, water containers(or jerrycans), braai grid, LCD Camping lights, Axe, and spade.
Beddings such as Sleeping bags, clean bedsheets, pressure mattresses, bath towels (on request), ground/dome tents, Duvet (when requested).
Car Hire Rwanda with Roof Top Tent
Car Hire Rwanda with Roof Top Tent: A Classic Way of Exploring Rwanda – The majority of vacationers would want to not spend a fortune on lodging and food while away from home because relaxation and enjoyment are the primary goals of most trips.
To avoid the problem of ever-increasing lodging costs, we opted for the tent on the roof. When you self-drive, you are free to make your own decisions without consulting a guide or driver. The greatest method to cut back on travel expenses is to rent a car with a rooftop tent.
Things to Do in Rwanda
10 Unique Things To Do in Rwanda While On Self Drive Tour, According to Experts. Discovering The Unmissable Attractions & Activities in Rwanda
Among the many activities to do in Rwanda, gorilla trekking is at the top of practically every traveler's list. Tourists from all over the world flock to Rwanda for the unique opportunity to get close to animals that share 99 percent of human DNA. The country's conservation efforts have allowed for significant progress toward protecting the animals.
Rwanda offers much more than just the chance to witness these peaceful giants. The 1994 Rwandan genocide devastated the country, but in the years since then, Rwanda has made remarkable strides toward rebuilding itself as a safe, friendly destination.

Meeting the Nyungwe Forest Chimps – Rwanda