Car Rental Tanzania With Rooftop Tents: Trusted by Millions
Car Rental Tanzania With Rooftop Tents trusted by million clients: Car rental drives offers fully equipped 4×4 Land Cruisers, Hilux, Fortuner with a rooftop tent for an ultimate camping safari/vacation experience in Tanzania.
Whether you are traveling alone, a couple, friends or with family, Car rental drives has a 4×4 camper  that's ideal for your next camping adventure.
We offer single, family and double rooftop tent to all customers on a self drive or guided safari in most of Uganda's  beautiful national Parks, reserves and wilderness areas.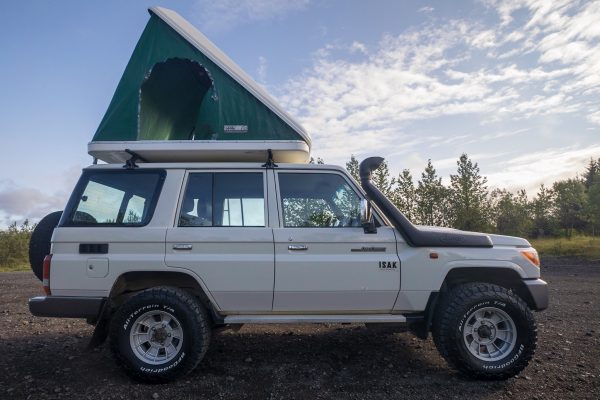 Car Hire Tanzania with Rooftop Tents
Spending a night in the middle of nature, driving your own adventure, and cooking your own food becomes even more interesting when you rent a car (Land cruiser) with rooftop tent  and camping gear from Car rental Drives.
With us you are rest assured that you have the best possible Camper (Land cruiser with rooftop tent), to comfortably carry you over the long stretches of the East African roads.
Car Rental Drives guarantees you a Car (Land cruiser) in perfect condition with 24/7 road service, unlimited  Mileage, 4WD explanation & test drives  road maps, and comprehensive insurance so, you can enjoy your holiday in Uganda, Kenya, Rwanda & Tanzania.
4×4 Land Cruisers with rooftop tents for camper hire in Tanzania
Car Rental Drives hires out a wide range of well-maintained  Vehicles to match your needs; such as: Toyota Land cruiser V8 with 1 rooftop tent which accommodates 2 people, although the car has up to 4 seats; Land cruiser Lx with 2 (double) rooftop tents for up to 4 pax,  Land cruiser Gx,  Toyota Hilux with a single rooftop tent (2 pax), Toyota Land cruiser 78 series with family rooftop tent for 3 pax, among others.
Frequently Asked Questions:
Where to Camp with My Car (Land Cruiser) With Rooftop Tent?
Tanzania has numerous camping grounds/sites across National Parks & Reserves
Tanzania has a good network of camping parks across the game parks and towns which are designed for your overnight stay. Most National Parks  have set a part grounds, that are equipped with toilets, barbecues and picnic areas for camping travelers.
What equipment is included when you rent a 4×4 with a rooftop tent?
Car Rental drives hires out a (Car) Land Cruiser + rooftop Tent + Camping Gear each in their own respective prices. But the prices of an all-inclusive package (Land cruiser + rooftop tent + camping gear), varies depending on the number of days, that is, "more number of days, the more discount".
The basic camping gear include among others; camping chairs, camping tables, gas stove, sleeping bags, cooking pots, dish washing basin, cooler box and a full set of cooking Utensils. whereas the car gear include; reflector triangles, car jack for changing the wheels,  first aid Kit,  and fire extinguisher. Pillows, bedsheets, blankets, flasks, flash lamp,  child seats, among others, are provided only on request prior to arrival date.
Other camping equipment such as electric fridge, air compressor is hired at a different price.
One other difference, is that you might also find your rental camper land cruiser with a spade, an axe, and an extra container for fuel. This is not bad, because some hard to  reach regions are muddy and have limited gas stations.
Above all, Whether you are a solo traveler, traveling as a couple or with your family, Car rental Drives will have a Car (Land cruiser) with rooftop tent camper  that will suit your needs.